JLA Host GA SPAC Spring Meeting
The Junior League of Augusta, Georgia, Inc. recently hosted the State Public Affairs Committee of Georgia-(GA SPAC) on June 16, 2018 for their annual spring meeting. GA SPAC is the advocacy arm of the Junior Leagues of Georgia. They monitor state and federal legislation, and address important advocacy issues based on member League's projects and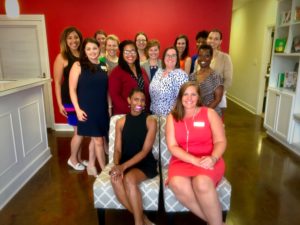 efforts. GA SPAC has weighed in on various topics and has provided support to programs that benefit women and children across the state of Georgia, including the recent HB 273-Mandatory Recess Bill, HB 834-Domestic Abuse Lease Termination, HB 673-Distracted Driving, HB 918-Tax Reform, HB 159-Adoption Bill and SB 232-Rural Internet/Broadband.
The State Public Affairs Committee is made up of delegates from twelve (12) Leagues; the collective voice represents over 10,000 women. Each year issues concerning Education, Health, and Welfare are researched and legislative strategies are determined which improve and inspire Georgia's communities. The Junior League of Augusta has two GA SPAC delegates, Brittney Als and JLA President Dagni Frederick, who also serves as the GA SPAC Communications Chair.
During the spring meeting, guest speaker Gail Pendergrast from I'm Aware spoke on the organizations local efforts to raise awareness and education on human trafficking. The Junior League of Augusta presented I'm Aware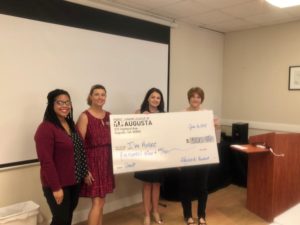 with a grant in the amount of $500 to continue their efforts towards advocacy and education in the Augusta community. "This year The Junior League of Augusta is celebrating 90 years of making a positive impact on women and children in the CSRA. We are proud to support advocacy efforts and collaborate with local agencies that inspire us to accomplish more together. The League, GA SPAC and I'm Aware collectively bring attention, compassion and influence policy decisions at the local, state and national level. Collaborations and partnerships such as this allows us to make a greater impact on our community", states JLA President Dagni Frederick.