Reflecting to Push Forward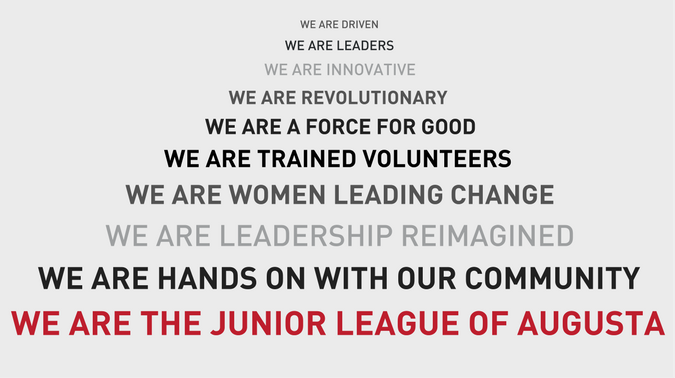 Since our founding, the Junior League of Augusta has donated more than $2,300,000 and volunteered more than 11,000 hours. We operated milk stations during the Great Depression and provided child care and free lunches for 3 million children during WWI. It's an amazing legacy to build upon, one that our members can be proud of.
As we kick off another League Year – the 89th League year in Augusta – it's important to reflect. Reflect on our history. Reflect on our Vision. Reflect on our Mission. Reflect on why we spend countless hours planning, volunteering and digging deep into our community's needs. Some members join for the volunteer opportunities, others join to broaden their network, and others support the League because of their passion for the CSRA.
For me, joining the Junior League of Augusta allowed me to continue volunteer work in our community and meet like-minded women. Through the Junior League I have learned many skills that I would not have gained through work alone and gained some amazing friendships. The combination of it all is what excites me about being a part of the Junior League of Augusta.
In all of the busy-ness of emails, planning and meetings, it's often easy to forget why we are here and the long-term impact of cumulative actions. That 50-cent linen donated or purchased for Attic Sale enabled the League to award $38,114.98 in grants last year. The (hundreds of) hours spent soliciting sponsors for Holiday Market helped to fund not only grants but also supported Kids in the Kitchen programming that taught a local child about healthy eating.
Moving forward, your support will help us make progress on our Vision of addressing generational poverty through impactful grant programs, community partnerships, and hundreds of volunteer hours. This year, we'll launch a new adult mentorship program with Ice Box Ministries in Harrisburg, we'll distribute tens of thousands of dollars in community and field trip grants, get our hands dirty, and build lasting relationships with both the community and each other. I think that's something we can all hang our hat on.
As the 2017/2018 year begins, I hope you'll reflect on why you joined or why you support the League. And, if you feel compelled, please share your story with us.
– Allyn Dyer, President 2017-2018